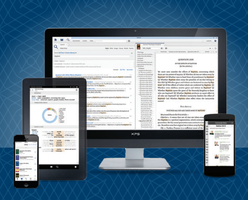 Do you have an tablet or smartphone and wonder how you can use it to learn more about your Catholic faith and the Bible? Let me show you how!!
In Ann Arbor Michigan, at 1:00 pm on May 31, I'm giving a free talk at St. Francis of Assisi parish called Foundations of our Faith. I'll demonstrate how mobile technology has allowed me to study Scripture and the traditions of the Church to come to my conclusions.
After my talk there will be a $30 training session from 3-4pm on Verbum (the Catholic version of Logos). Training fee is waived with the purchase of a Verbum Library at the event.
Buy Verbum now and be ready to practice at the seminar. Visit www.Verbum.com/SteveRay and enter the Promo code STEVE for a 15% discount.
Learn more an register at NewWayToStudy.com
{ 0 comments }